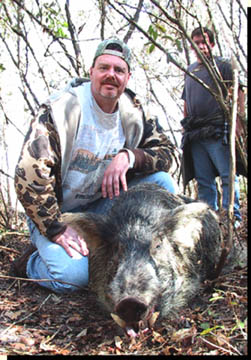 A monster blue gray boar was what Mike Sargeant had been dreaming about, and without doubt that dream came true.

We'd called this boar the Gray Ghost because he was rarely seen and wouldn't be bayed up by the dogs.

A burley, blue beast like this with his long, woolly hair and stout teeth doesn't come around often, and when it does, you'd better make a fine quartering lung shot like Mike did with his .30-06.

The Ghost crashed 50 yd into thick woods before he crashed to the ground.