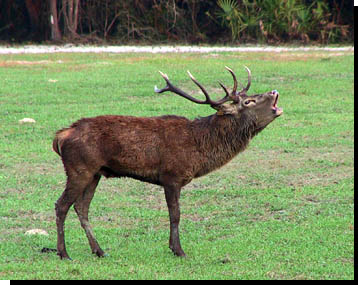 Some animals are simply stars. They leave their mark on every day, and this stag is one of them--the "broke horn" red deer. He's roaring and driving all other males, if not off the open field, at least driving them until they show signs of submission, or at minimum, avoidance.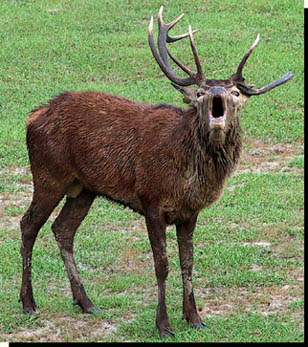 I was very lucky to get a full face view of this roaring red stag.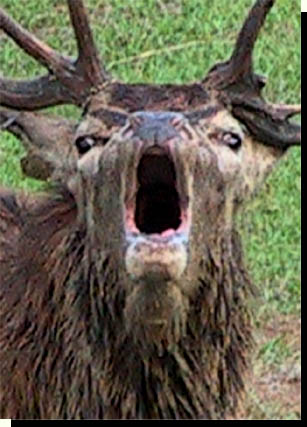 This close up shows the mouth and nose of the roaring stag. It is very different from the bugling elk. The red deer keep their lower teeth and upper pad covered, and their nostrils flaired open. The elk in contrast close their nostrils and expose their teeth and upper cartiledge pad.

If you think of the elk's bugling as a kind of whistling, you can remember that they're the ones with the pinched shut nose because you can't whistle and breathe through your nose at the same time--but you could roar through your mouth and nose at the same time.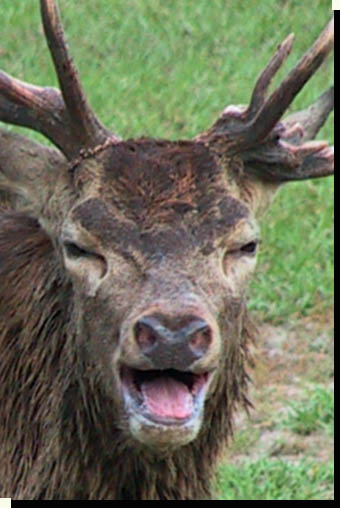 Here the stag is between roars. I don't remember whether it was the start or finish, but you can see that his nostrils are widely flaired.

Here you can also get a look at the base of that damaged antler on his left.
RED DEER ROAR 1
RED DEER ROAR 2
STAMPEDE